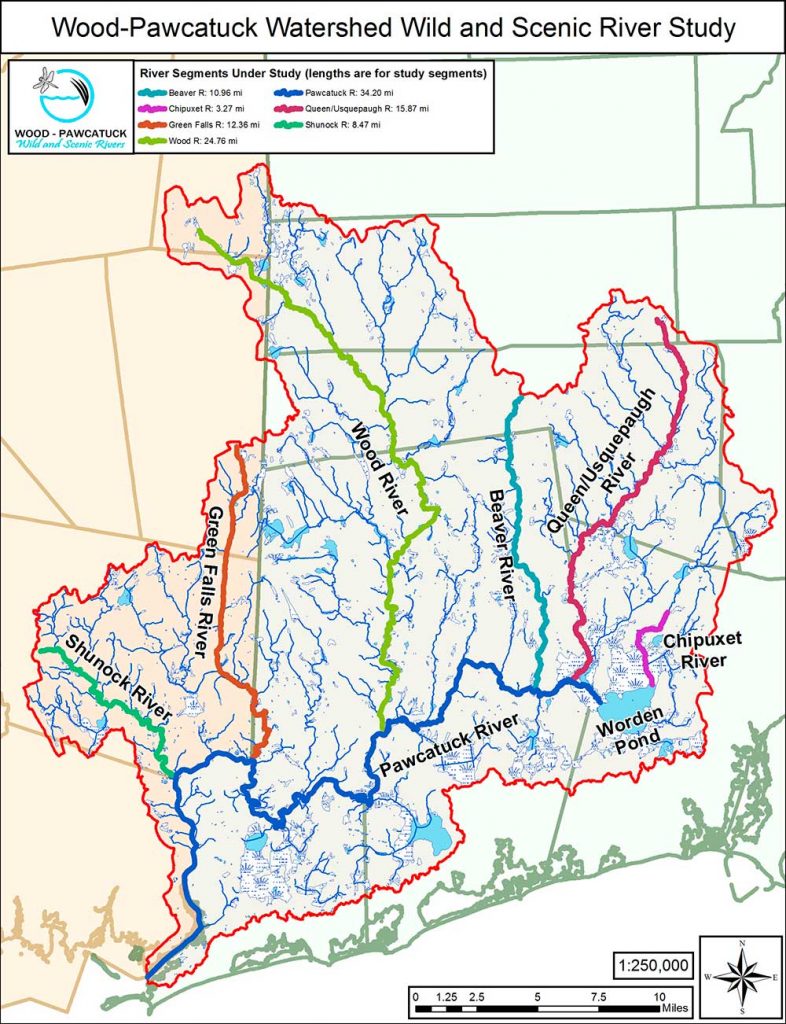 The Stewardship Council serves as a vital communication and coordinating body. The Stewardship Council serves to increase attention and focus of all partners on the preservation, protection and enhancement of natural, cultural and recreational values as described in the Stewardship Plan.
For three years, local residents appointed by the watershed towns, with support from the National Park Service, the Wood-Pawcatuck Watershed Association, state agencies from Connecticut and Rhode Island, and several non-government agencies, participated in the Wood-Pawcatuck Wild and Scenic Rivers Study Committee. The Committee studied the rivers considering natural and cultural values. They developed a Stewardship Plan for the eight towns in Rhode Island and four towns in Connecticut to provide local protection strategies for their consideration and implementation. This provides a blueprint that is not only consistent with local and state ordinances but looks forward to meet future needs as well. Upon completing this major project, the Study Committee dissolved. In 2018, the Stewardship Plan and decision to seek Wild and Scenic status was overwhelmingly endorsed by each watershed town and many state and non-government agencies.
In March of 2019, national legislation was passed officially designating the Wood-Pawcatuck Wild and Scenic Rivers. Seven major rivers – as well as countless, lakes, wetlands, and smaller streams – come together to form the Wood-Pawcatuck watershed. The Beaver River, Chipuxet River, Green Fall – Ashaway River, Queen – Usquepaugh River, Pawcatuck River, Shunock River and the Wood River are included in the National Wild and Scenic Rivers System.
Now that the national legislation has been passed, a Stewardship Council has formed. This group has representation from each watershed town, several non-profits and state environmental agencies. Purposes of the Stewardship Council are
To implement the Wood-Pawcatuck Wild and Scenic Rivers Stewardship Plan through voluntary actions, public education, and offering technical and financial support to local communities and partners.
To provide a forum to prioritize, discuss, and resolve river and watershed issues across town and state lines.
Coordinate with other stakeholders on implementation of Stewardship Plan goals and actions.